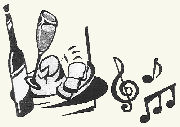 Friends of Wyneken is sponsoring a bus trip to Story, IN where you will be able to enjoy some of Indiana's fine wines, along with food and live music at the Indiana Wine Fair. If that isn't quite your cup of tea, there will be a shuttle bus that will take you into Nashville, where you can browse through all the shops.
When: Saturday, 30 April 2011
Cost: $60 for the Wine Fair and Nashville : $45 for Nashville shopping only
Reservation deadline is 15 April in order to secure advance tickets for the Wine Fair.
For reservations please call:
Karen Heller (260) 724-7959
Tina Bauermeister (260) 639-6530
For more detailed information on the trip and pick-up points click on the following link: Bus Trip . If you are interested in finding out more about the Wine Fair go to: http://www.storyinn.com/wine-fair
Hope to see you there!