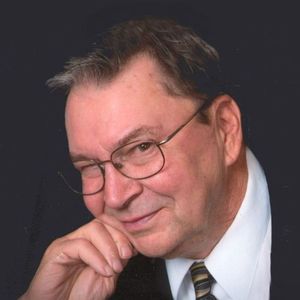 John B. Kalb
1935-2012
In the very early hours of December 20th, 2012, John Kalb, a dear and steadfast friend, charter member of the Friends of Wyneken, and a driving force behind the restoration efforts of the Wyneken House, unexpectedly went to his eternal reward with his Heavenly Father.
John, a proud Purdue alumni, and electrical engineer by training, was involved with the Wyneken House from the very beginning. It's not a stretch to say that the Wyneken House wouldn't be where it is today were it not for John. A typical head-strong German, he often butted heads with others on what and how things should be done. But get things done he did. Years ago he lost most of the sight in his right eye, essentially leaving him without any real depth perception, but that didn't stop him. It was amazing what he accomplished by himself working at the Wyneken House. He was always there, could always be counted on when needed, and very often would be at the Wyneken House by himself, working on "something", always something.
John was active in Fort Wayne with Emmanuel Lutheran Church, volunteer programs, local politics, and other clubs and groups. You would think his days must have had 40 hours in them!
His sudden and unexpected passing at the way too young age of 77, just before Christmas, leaves a tremendous void in the Friends Of Wyneken that cannot be filled, but a big part of his legacy will always be the Wyneken House which was near and dear to his heart, and which he was passionately devoted to until the very end of his life, having been working on the Wyneken House even the very day he died.
He is missed . . .
 Ken Selking, Friends of Wyneken
Click on the following link to view a photo tribute to John:  Photo Tribute_John